Cruise Ship Scuba Divers
Off The Wall Divers is happy to work with cruise ship divers, and now, we are closer to the port than ever.
If you are coming to Grand Cayman aboard a cruise ship and would like to arrange a scuba diving trip while you are here, let us take care of all the details to ensure a Grand Cayman scuba diving excursion that you will never forget.
We cater to novice and advanced divers alike. From pre-booking your scuba trip, until you return to the dock,  we take care of it all.  OTWD is dock at 37 Seafarers Way, a 5-8 minute walk from the port (pending where you disembark).
If you have non-divers in your group, they are welcome aboard as snorkelers or passengers, based upon space available. During the busy season, and with full boats, this option is not available. Thus, sometimes this is a last minute decision. The  cost of a rider/snorkeler is $75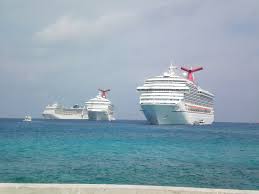 .
Our custom trips can accommodate parities of 1-8 divers. It would be a shame to visit the beautiful island of Grand Cayman, and not get the chance to scuba dive.
Please review the booking checklist section (bottom)  of this site to consider information we will be seeking. The more information you can provide, the easier it will be to get you booked.
Call/e-mail us now to arrange an unforgettable dive experience! You can reach us at 345-916-0303, or fish@candw.ky.