About Us
 Tom Shropshire (Kentucky, USA)
October of 2017 begins the 7th year of owner at Off The Wall Divers for Tom, and the company has grown to a "2-boat" operation with five (5) employees
Following college, Tom got into the travel business working as an agent, and later, with COMAIR, a Delta Connection Carrier. Following the corporate world, Tom recalls, "throwing up my hands and saying 'what do I want to do'".
Tom gained his instructor in 1995 and went to work in 1996 at Red Sail Sports in Cayman where he spent six months.. Following 18 months in Freeport, Grand Bahama, Tom was brought back to Cayman, where he worked for Parrots Landing and Tortuga Divers. before managing the business office for eight years at the Cayman Aggressor IV.
After 1.5 years away, Tom returned to Cayman with Off The Wall Divers.
When not diving in Cayman, Tom is usually diving somewhere else around the world or snow skiing.  Another love of Tom's is the CM Ranch in Dubois, WY.  This area of the country was introduced to the him as a youngster and in the 70s, Tom even worked on the ranch.  Now, Summer is not complete without a visit to beautiful area of the US.
Diving locations: Key Largo and the East Coast of Florida, Dominica, Honduras, Belize, Galapagos, Ireland, North Carolina, BVIs, USVIs, Cozumel, Micronesia (Yap, Chuuk, Palau), and the Philippines.
Hobbies: Music of the 60s, 70s, and Carolina Beach music;  Royal Doulton collection (over 700 pieces – including numerous prototypes of MLB Baseball Teams and British Football Teams).  Snow skiing is a great "release".
NAKAI CONI (Grand Cayman, Cayman Islands)
Nakai Coni is a true Caymanian. . . . born and raised not only in Cayman, but under the water. His father, Sergio, is the well-respected manager of Don Foster's Dive, where he has served for over 25 years.
Receiving his instructor at age 18, Nakai worked for his father before joining Off The Wall Divers.
When asked for a short bio, Nakai eloquently wrote: " born on Grand Cayman, I've been fascinated by the ocean. . . looking for small sea creatures and being able to be surrounded by the beauty of the ocean. On my time off, I search for surf or sit back and relax on the beaches here."
Surfing, his career in diving, and star gazing are a few hobbies Nakai enjoys, along with all types of music.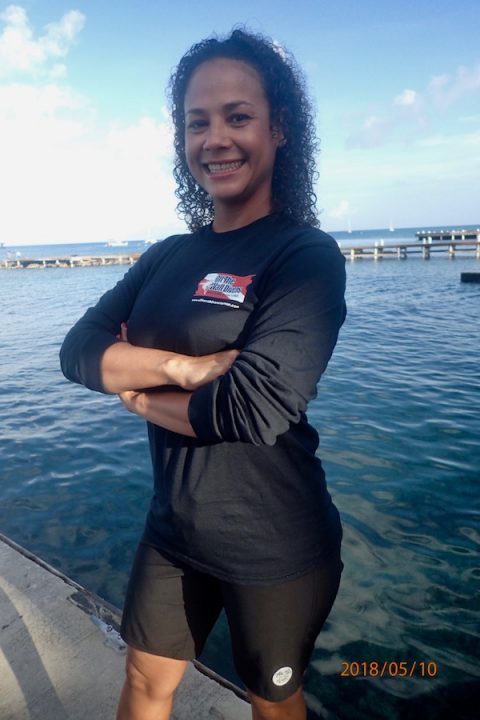 MARIA MERRIN (Chicago, IL USA/Honduras, C.A.)
Originally hailing from the North Side of Chicago, Illinois,  this "city girl" migrated to a small Caribbean island off the coast of Honduras, one of the Bay Islands, Utila. Here, Maria discovered her dream of becoming a dive instructor.
After working several dive shops and resorts she hopped aboard the Utila Aggressor and began the  next phase of her diving exploration, live aboards and yachts. Yacht hopping allowed Maria to discover several amazing dive destinations she had never imagined. From The Bay Islands to Turks and Caicos, St. Maarten, Saba, St.Kitts, Nevis and even a private yacht in Singapore and Bali. After a four (4)  year career on yachts,  Maria was looking to return to a land-based life. This brought her to the island of Grand Cayman where she found the perfect balance for her dive career while also being able to partake in her other hobbies like yoga, fitness, cycling and lazy days on the beach
Maria's previous "life" was about the theatre and stand-up comedy.  Come join her for some awesome Cayman diving and if you are doing dive training, Maria is an SSI and PADI instructor.
CELESTE CHARNLEY (England, UK)
Returning to Cayman for break from the dive industry, Celeste elected to stay, and thus has joined Off The Wall Divers (OTWD) for a six (6) month period.
No stranger to the Cayman Islands, Celeste has been visiting the island paradise since she was a youngster. Her grandparents lived her and this is where she learned to love diving. It was not long before Celeste completed her instructor training and went to work for a couple of small operators on the island. She knows the reefs and the dive sites.
Seeking something more, Celeste work for a liveaboard in Australia and did whale shark work in Exmouth, Western Australia. Next, she joined the Aggressor Fleet (Bahamas), before landing on her feet with the Turks & Caicos Explorer.
"I would hire her before anyone else I have ever worked with in the dive industry," commented a fellow employee. "She was brilliant with people and serious about her diving and teaching duties.
You will see Celeste guiding dives, teaching and running a boat, and we welcome her to Off The Wall Divers.
In September 2019, Celeste ventured off to Idaho and completed her EMT Course; and now back in Cayman, she has the desire to volunteer with our local ambulance staff and gain some hands-on experience.
DARYL LONDON (England, UK)
You may have seen Daryl around the dock in the past as he spent some time with one of our "dock partners", before taking personal time, and making the ultimate decision to come back to Cayman.
Daryl says he got into diving after an accident left him with a broken leg., and he thought the water activity would be therapeutic. And as things would have it, he "enjoyed it so much I decided to carry-on and become a DM". The rest is history. Daryl continued in diving and received four (4) cert cards in four (4). different parts of the world. He was "hooked".
After a two (2) year working stint in Dahab, Egypt , the diving market slowed and Daryl found himself on Little Cayman, where he spent a year, before coming to the "big island" where has worked for several dive operations.
Daryl like activities that give him a bit of "sports rush", as he enjoys motor racing, snow boarding and sky diving (he does solo). Daryl's to "relax" and says he enjoys traveling very much.
Originally from the UK, Daryl has a sister living in France and family in North Carolina
EVELIEN (EVE) MAHY (BELGIUM)
Eve came to Off The Wall Divers in December, 2019, after a couple of years with on the island with Red Sail Sports.
It was 2014 when Eve "fell in love with diving" and after "just being happy" having fun dives, it was her DM course that triggered the "on switch" – Eve loved seeing students grow into actual divers.
Eve's first stop in the industry was Koh Tao in Thailand. She fins enjoyment in showing divers the underwater world, whether is being as a guide or an instructor.
Meeting new people always make Eve happy, and she says she's "up for a challenge". She describes herself as "social, team-player" and "hard worker".
We welcome Eve to our "family of divers"