About Us
Tom Shropshire (Kentucky, USA)
October of 2023 begins the 12th year of ownership for Tom. Things were looking up, then, the pandemic hit. So, let's just start here……..
Following college, Tom got into the travel business working as an agent, and later, with COMAIR, a Delta Connection carrier. Following the corporate world, Tom recalls, "throwing up my hands and saying 'what do I want to do'".
Gaining his instructor rating in 1995, Tom went to work in 1996 at Red Sail Sports in Cayman where he spent six months. Following 18 months in Freeport, Grand Bahama, Tom was brought back to Cayman, where he worked for Parrots Landing and Tortuga Divers. before managing the business office for eight (8) years at the Cayman Aggressor IV.
After 1.5 years away, Tom returned to Cayman with Off The Wall Divers.
When not diving in Cayman, Tom is usually diving somewhere else around the world or snow skiing. Another love of Tom's is the CM Ranch in Dubois, WY. This area of the country was introduced to the him as a youngster and in the 70s, Tom even worked on the ranch. Now, Summer is not complete without a visit to beautiful area of the US.
Diving locations: Key Largo and the East Coast of Florida, Dominica, Honduras, Belize, Galapagos (3 trips), Ireland, North Carolina, BVIs, USVIs, Cozumel, Palau (2 trips), Chuuk (2 trips), Yap and the Philippines.
Hobbies: Music of the 60s, 70s, and Carolina Beach music; Royal Doulton collection (over 1000 pieces – including numerous prototypes of MLB Baseball Teams and British Football Teams). Snow skiing is a great "release".
EVELIEN (EVE) MAHY (Belgium)
Eve came to Off The Wall Divers in December, 2019, after a couple of years with on the island with Red Sail Sports. Eve is both an instructor for PADI and SSI.
It was 2014 when Eve "fell in love with diving" and after "just being happy" having fun dives, it was her DM course that triggered the "on switch" – Eve loved seeing students grow into actual divers.
Eve's first stop in the industry was Koh Tao in Thailand. She fins enjoyment in showing divers the underwater world, whether is being as a guide or an instructor.
Meeting new people always make Eve happy, and she says she's "up for a challenge". She describes herself as "social, team-player" and "hard worker".
We welcome Eve to our "family of divers". During the pandemic, Eve stayed active walking her "rescue" dog, "Tripod", working out, diving with friends and doing some nanny work.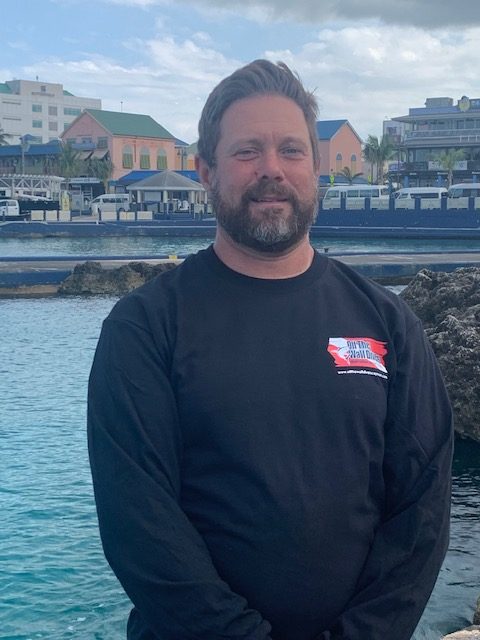 JOHN SERGEANT (Scotland)
Hailing from Edinburgh, Scotland, John found himself working on a cattle farm in Queensland, Australia in 2001. After a long three (3) months, John knew it was time for a change of scenery and tried diving. It was "love" and the rest is history. While in one of the "diving capitals of the world", John completed his Open Water, AOW, rescue and wreck.
After a return to Scotland, John found himself in France in the financial industry and limited diving.
Inspired by a TED talk, the bags were packed, the desk drawer locked and a six (6) month "divemaster internship" in Fiji and Thailand was ahead. Following the DM course, he obtained his instructor rating and the corporate world was left behind.
After a short six (6) months of additional courses, and gaining experience, John ventured to Cayman where he worked at the Lobster Pot Dive Center; unfortunately, our to COVID, this lasted only six (6) months. He returned to Scotland doing various tasks in the construction industry.
It was once the Cayman Islands opened that John returned with a charter boat company, before joining the staff at Off The Wall Divers, where he serves as a boat captain and dive instructor.
In his leisure time, John plays squash, hits the driving range and walks his German shepherd, Kaito.
MIKE CHAPMAN (England)
Born in Nottingham, Mike grew up in Newquay, a surfing town in Cornwall. It was 2009 when Mike started scuba diving and by 2011, his adventures around the world began. 1st stop: Australia, where he continued on the professional dive path.
Mike became a "divemaster-in-training" with Cairns Dive Center on Fitzroy Island, and by 2013 he had secured his open water instructor. Two (2) more years in "Oz" and it was off toe Thailand for a year on Koh Tao, before venturing to Mexico for six (6) months. It was 2015 when Mike landed on Grand Cayman, and secured an instructor position with Don Foster's Dive Shop (known locally as 'DoFo's').
Continuing to grow in the industry, Mike obtained his captain's license in 2017.
Off The Wall Divers feels very lucky to have Mike onboard, and it helped that his wife, Amanda Lawrence, works on the dock for Deep Blue Divers. They are both wonderful additions to their respective companies.
Mike and Amanda are the parents to two (2) cats, and have just purchased their 1st home on Grand Cayman. In his spare time, Mike loves to "rock out" on guitar, do a bit of photography and hike.