About Us
 Tom Shropshire (Kentucky, USA)
October of 2017 begins the 7th year of owner at Off The Wall Divers for Tom, and the company has grown to a "2-boat" operation with five (5) employees
Following college, Tom got into the travel business working as an agent, and later, with COMAIR, a Delta Connection Carrier. Following the corporate world, Tom recalls, "throwing up my hands and saying 'what do I want to do'".
Tom gained his instructor in 1995 and went to work in 1996 at Red Sail Sports in Cayman where he spent six months.. Following 18 months in Freeport, Grand Bahama, Tom was brought back to Cayman, where he worked for Parrots Landing and Tortuga Divers. before managing the business office for eight years at the Cayman Aggressor IV.
After 1.5 years away, Tom returned to Cayman with Off The Wall Divers.
When not diving in Cayman, Tom is usually diving somewhere else around the world or snow skiing.  Another love of Tom's is the CM Ranch in Dubois, WY.  This area of the country was introduced to the him as a youngster and in the 70s, Tom even worked on the ranch.  Now, Summer is not complete without a visit to beautiful area of the US.
Diving locations: Key Largo and the East Coast of Florida, Dominica, Honduras, Belize, Galapagos, Ireland, North Carolina, BVIs, USVIs, Cozumel, Micronesia (Yap, Chuuk, Palau), and the Philippines.
Hobbies: Music of the 60s, 70s, and Carolina Beach music;  Royal Doulton collection (over 700 pieces – including numerous prototypes of MLB Baseball Teams and British Football Teams).  Snow skiing is a great "release".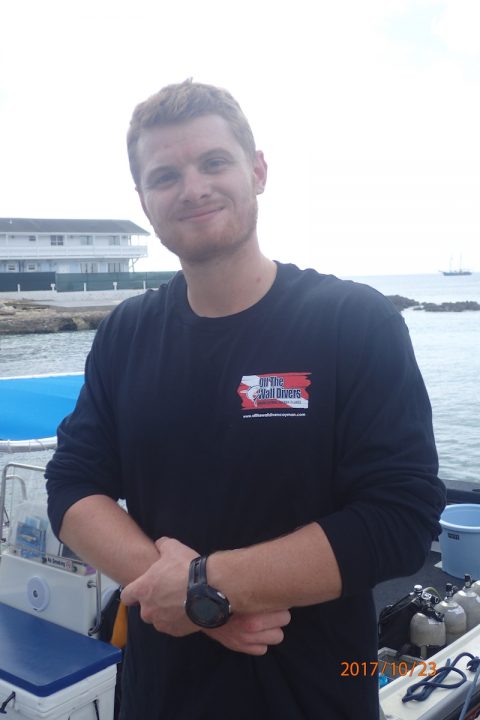 BEN CHILES (England, UK)
Joining OTWD in late 2016, Ben gained his "instructor rating" in 2015 in Tenerife.
Hailing from the southeast of England (Kent), Ben first began diving as a teenager, and yes, he learned in a dry suit. Professionally, Grand Cayman was the 2nd stop on his "tour of duty", and he has not departed.  Currently, Ben holds a "master scuba diver trainer" rating with PADI and in the past two (2) years, has earned the PADI Elite Instructor Award.
While running the boat is a love of Ben's, he naturally does dive mastering, and enjoys taking awesome underwater photos. He'll be happy to assist you too, with your underwater shots.  He also enjoys time with his German Shepherd, "Nick" and riding motorcycles.
AARON (AZZA) BUTLER (Australia)
All the way from Australia's sunny, Gold Coast. . . . we present to you Aaron Butler, more commonly known as Azza.
Azza joined the Off The Wall Divers team fresh from his service in the Royal Australian Navy where he committed to a three (3) year stint.
Prior to the Aussie Navy, Azza worked on Grand Cayman in 2012 and has also work in Thailand, Cairns and the Turks & Caicos Island.
When not blowing bubbles under the sea, you can find this young man at gym or running along the beach.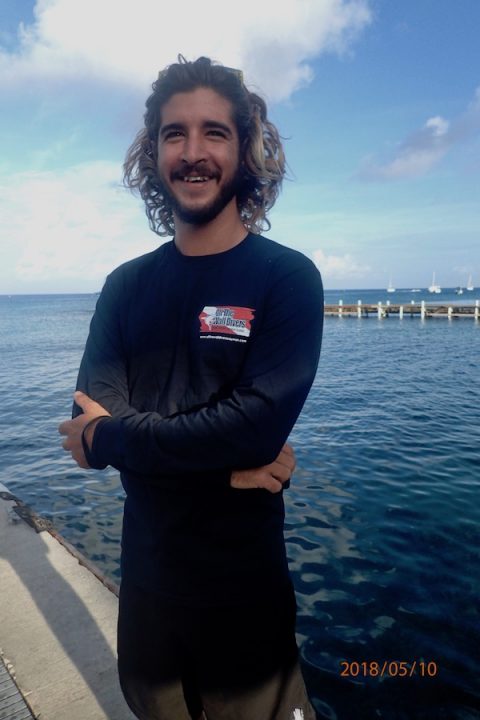 NAKAI CONI (Grand Cayman, Cayman Islands)
(Information forthcoming)
MARIA MERRIN (Chicago, IL USA/Honduras, C.A.)
(Information forthcoming)
 
DAVID CLARK (England, UK)
Originating from Leeds, England, David has return to Cayman after a number of year away from the dive industry.
Graduating from Pro Dive (Ft. Lauderdale, FL) in 1994, David first came to Grand Cayman as an instructor at Tortuga Divers (East End), before venturing off to Cairns, Australia.  David returned to East End from 2000-2002.  During his 2nd term at Tortuga Divers, David met Ms. Andrea Radacher and they ventured to Saba (Sea Saba) for 1.5 years.
Eventually, David and Andrea returned to her home country of Austria, where David developed skills as a trained electrician.  He also has dabbled in plumbing, metal works, plastering, and roofing. David is a bit of a "fix-it-all" type of guy.
When not "getting wet", David spends his time sharing his wit and corny jokes with staff and diving guests.
Diving locations: England, Scotland, Australia, Grand Cayman, Saba, S. Florida, Egypt, and the Sudan.